The silly season is well and truly still alive in my world. I've recently hosted a dinner party with my girlfriends and it feels like there's been lots of milestones to celebrate with close family and friends so of course I can't go past The Drama Queen Méthode Traditionnelle. It's the perfect appetizer to any celebration or dinner party.
Why
However, we are talking about real Méthode Traditionnelle folks, which takes great time and patience to make. It's deliciousness only comes from years of sitting in the bottle developing flavours. This sparkling in some respects sums up my outlook on wine -preparation and time meets frivolity, tradition & process meets Black Sheep fun & whimsy.
I like the tradition of using the three classic Champagne varietals – Chardonnay, Pinot Noir, Pinot Meunier and taking the time to second ferment them in the bottle, it's long and complex with significant preparation time, holding time and cost. The result is something you can't copy with short cuts. Once the winemaker has done all the work it's over to you to enjoy, and what enjoyment it is!
It's such a sensory experience, from the exciting sound of the cork popping to the frothy pour into the elegant flute, the mousse that settles at the top and the delightful beading bubbles that pop off the bottom of the flute like little shooting stars to the top – and that's before we've even started to smell or taste this delicious drink. All that time lounging around in the bottle develops gorgeous yeast driven flavours that are like brioche long with the flavours of the three wine varieties, but unlike still wine, these are exploded in the mouth like little popping rocks. It's utterly delicious!
Sensory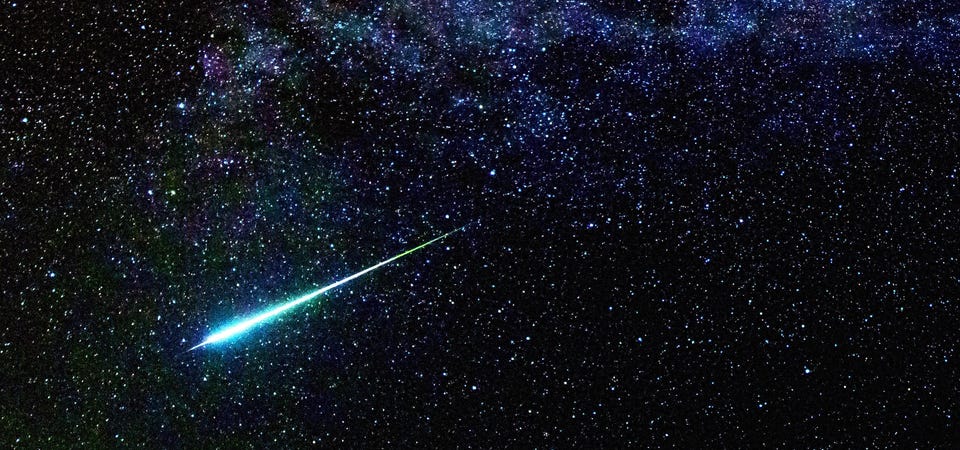 This is a sensory blast in a bottle! Think of it as a shooting star that blasts to earth with delicious flavours of strawberries & cream on brioche.
What I'm eating with this wine
To be honest, The Drama Queen holds her own and doesn't need any pairing, it's a sensory explosion all on it's own.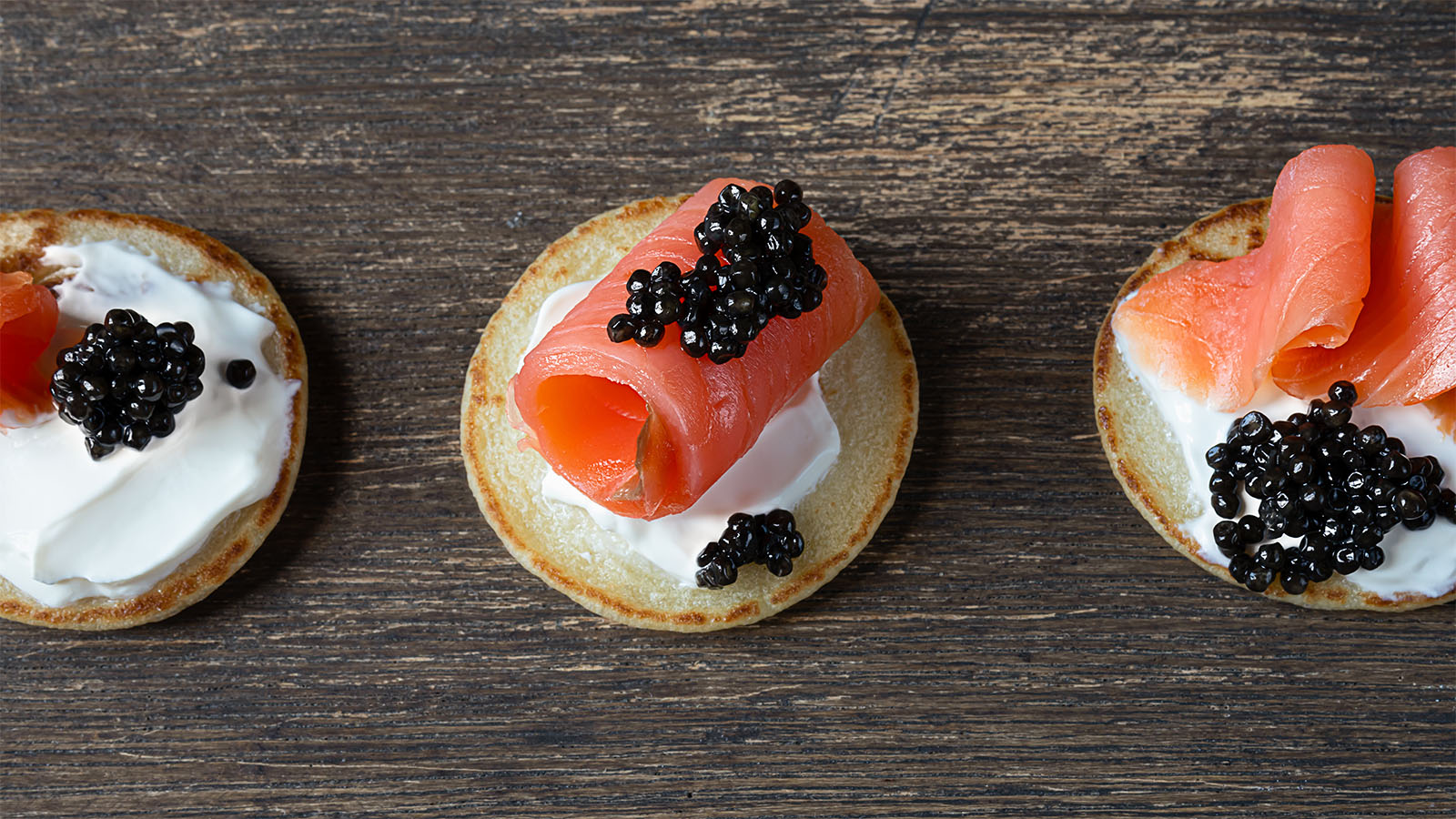 But if you like a snack, keep it light so it doesn't smother the experience. A natural oyster is beautiful. For something richer I opt for smoked salmon on blinis with a dab of sour cream and a sprinkle of black caviar.
What I'm listening to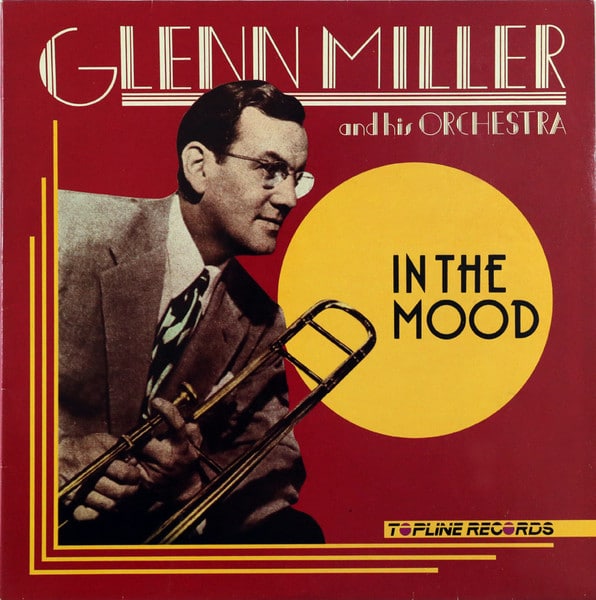 In the mood – Glenn Miller & his orchestra
I love having Jazz playing at my place it really sets the mood and keeps us all upbeat.
More about Methode Traditionnelle
For a bottle of sparkling wine to be labelled Champagne, it has to be made in Champagne, France and produce using the méthode champenoise. If that bottle is produced using the exact same method, anywhere else in the world, it must carry a different name. The production method itself must even be referred to differently, méthode traditionnelle is the usual substitute. These rules are strictly enforced. They are codified in national laws, European Union regulations, and international trade agreements and treaties.
The traditional method of sparkling winemaking was awarded a UNESCO heritage in Champagne in 2015. It is–arguably–the most appreciated method for sparkling wine production in terms of quality, and at the same time it is also the most costly in terms of production. The most important facet of the traditional method is that the transformation from a still to a sparkling wine occurs entirely inside the bottle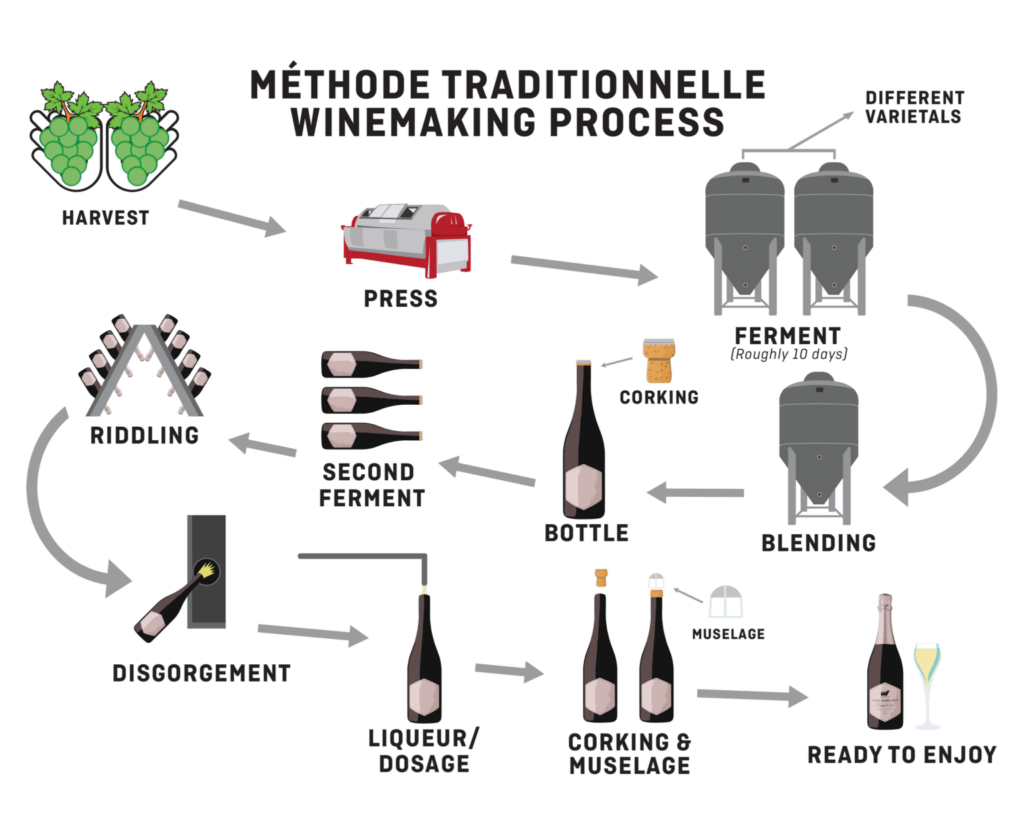 How it's made
Harvest: Grapes are picked usually just a tiny bit younger to preserve acidity.
Grapes are then fermented into a dry wine. We then take the various base wines and blend them together.
Yeast and sugars are added to the cuvée to start the second fermentation and wines are bottled (and topped with crown caps
2nd Ferment: The second fermentation happens in the bottle. The process creates CO2 which is trapped inside the bottle thus carbonating the wine. The yeast dies in a process called autolysis and remain in the bottle. Wines are aged in the bottle for or a period of time to develop texture in the wine. Champagne style requires a minimum of 15 months of aging (36 months for vintage Champagne). Most people believe the longer the wine ages in the bottle, the better.
Riddling: Clarification of the wine occurs by placing the bottle upside down. The dead yeast cells collect in the neck of the bottle.
Disgorging: Also known as removing sediment from bottle. The bottles are placed upside down into freezing liquid which causes the yeast bits to freeze in the neck of the bottle. The crown cap is then popped off momentarily which allows the frozen chunk to shoot out of the pressurized bottle.
Dosage: A mixture of wine and sugar is added to fill bottles
Bottles are then corked, wired and labelled.
The beautiful sparkling wine is now ready to be enjoyed, many years after it started the process