I love the shoulder seasons for wine drinking because just about everything feels right, there are still cool nights for big juicy reds but also warm spring days for fresh whites and other days for everything else in between.
I am often asked what I like best to drink. I am a mood-drinker, which means that the combination of season, the temperature of the drinking moment, the company I am in, what I am eating or not eating, whether I am inside or outdoors, what time of the day it is, will all impact my mood and what I feel like drinking.
I usually have at least two bottles opened so I can choose what I feel like and navigate my palate's mood.
Right now on high rotation I have The Mongrel Sangiovese 2021 vintage.
Why
It's perfect wine for in between weather – it's red, but it's mid weight and delicious.
I love the brilliant red cherry 🍒 colour – there is something so optimistic about the colour of this wine.
The smell and flavour of this wine is savoury, not fruity. If this wine was a house it would be a rustic barn, not a glossy apartment. It has a lot of subtlety of flavour rather than showy fruit or artifice. It feels of the earth.
I'm very into texture of wine, more than the smell and just as much as the flavour. Texture is the feeling in the mouth. This wine has a nice papery resistance which is drying and slightly mouth puckering coming from the natural tannin of the Sangiovese grape with a zingy lift coming from the natural acidity of the grapes which we don't let linger too long on the vine.
Sensory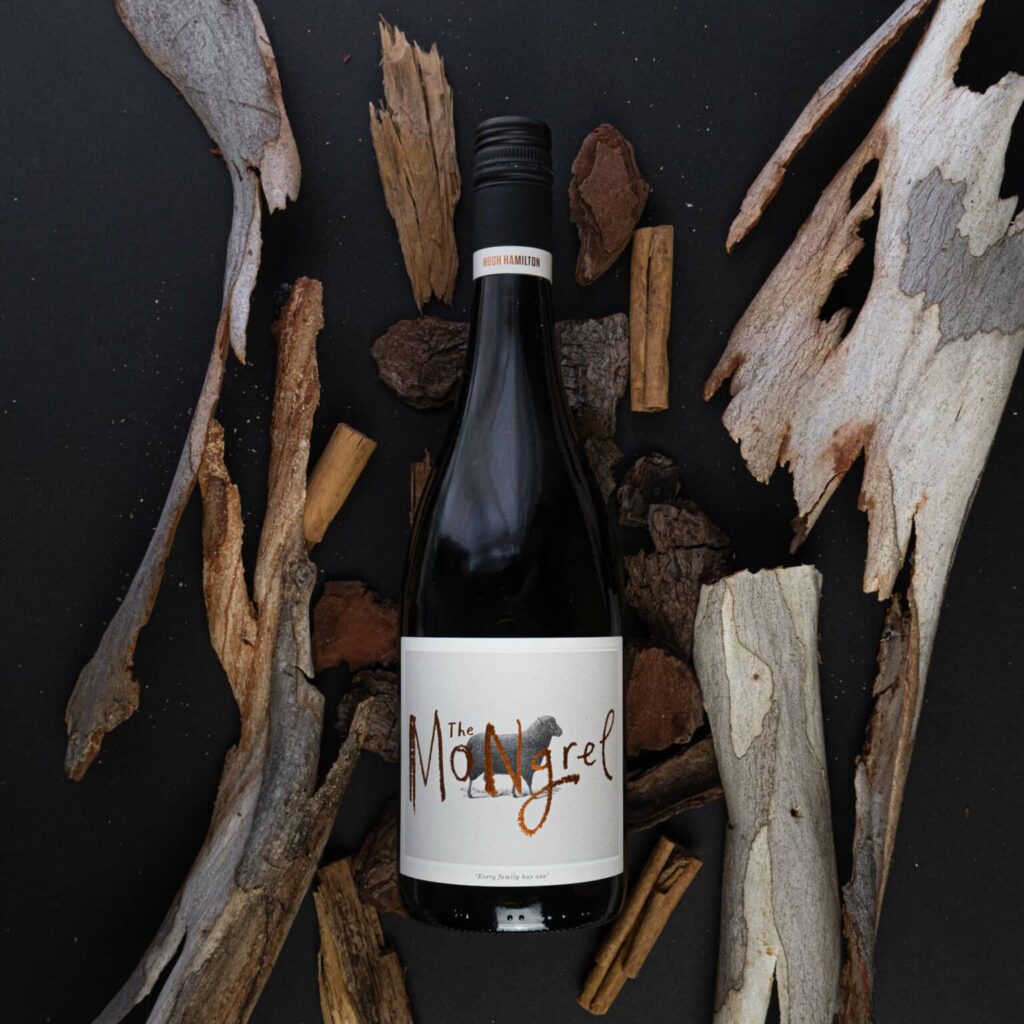 The 2021 Mongrel has got lots of subtle flavours like the smell of sawing a branch off a fruit tree – who recalls how that smells? Rose hips which are quite tart not sweet, there are nuances of old worn leather, apple orchard, sweet dried hay, oregano, earth, mushroom, moss, semi dried tomato, paprika, and flint.
If our Mongrel Sangiovese was a house it would be rustic with lovely aged furniture that is waxed raw, not veneered. It would have terracotta pots with herbs outside and inside the fabrics would be raw linen and embroidered cottons. Loved, but simple and honest.
The feeling of wine is every bit as important as the flavour. This wine is vibrant in the mouth with a jazzy feeling and it has a nice vitality. That feeling is balanced by the drying feeling of the tannins. All this conspires to be great with food.
The cherry 🍒 idea doesn't just stop at the colour, it has a feint waft of cherries when you smell it and also when you drink it, but don't think it's all fruit basket, this is actually more of a savoury wine, which brings me to the other reason I love it….it goes so well with food.
The flavour of the wine is pretty complex, it is not one flavour and it's definitely not sweet.
how I drink
I'm picky about wine temperature because I think wines show themselves better at the right temperatures So what is right? For this wine, I like it on the cooler side for red wines; whilst I'd serve most of my Shiraz around 17 degrees, I like the Mongrel around 15 degrees.
I have a fair bit of latitude when it comes to glasses. They don't need to have stems, in fact for daily drinking I use a lot of stemless because they are easier to put in the dishwasher. However, I like fineness of glass or crystal it feels to me like it adds to the tasting pleasure and I always have glasses with a taper at the top that is smaller than the base because I love smells and this gives great pleasure to the aroma.
What I'm eating with this wine
Think rustic! The Mongrel really comes alive with food.
I love to cook, but sometimes it's just great to unload the fridge and cupboard with tasty nibbles on a little plate. For this wine, I like hard cheese because the great acid line of the wine cuts the fat beautifully as does some thin sliced cured pork & fennel-cured sausage. I'd add in a duck pate or some garlic button mushrooms with a little truffles salt and some roasted eggplant if I have the time to turn on the cooking.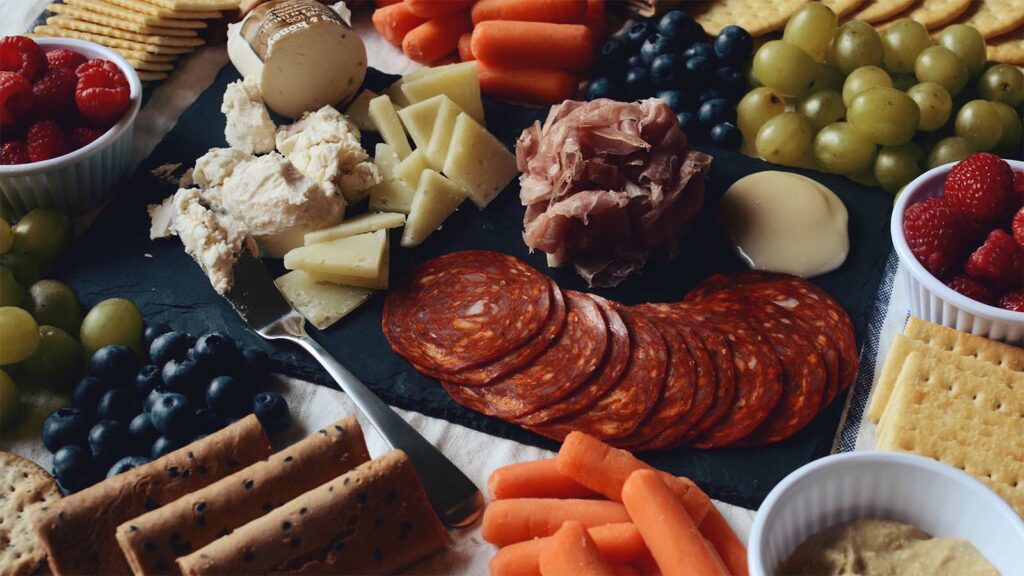 Versatility is one of The Mongrel's great attributes for food. If I was to get the pots and pans out I would make a garlicy pasta with lots of olive oil or burnt butter. It's also at home with a homemade margarita pizza or Osso Bucco. I think you get the idea, the natural dryness of this wine loves fat – animal or olive!
What I'm listening to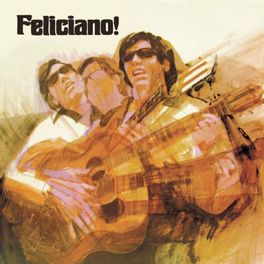 Jose Feliciano Essentials – Come on Baby Light my Fire, Guantanamera, Sunny – warm, soulful, from the heart
Where the wine Grows
This wine comes from our estate, specifically our Church Block vineyard, which is dear to us as it's been in the family since the 1940's. It's about 80m above sea McLaren Vale has a Mediterranean climate and Sangiovese likes that. The vines were planted in 1998 after Dad and Pam were rocketing around Chianti in a Fiat and refuelling each night on Sangiovese in the form of Chianti. The soil is an ancient alluvial creek bed with red Ironstone.
The grapes were picked in the middle of vintage and about 70% of the batch was fermented on the skins. No new oak was used, just old oak barrels for softening.
More about Sangiovese
Sangiovese grapes are a cross of the Calabrese Montenuvo grapes from southern Italy and the Ciliegiolo grapes from Tuscany. Sangiovese is mostly grown in Central Italy, where it thrives on the Tuscany countryside.
Today, these grapes produce a variety of Italian blends, including:
Brunello di Montalcino
Chianti
Tignanello
Vino Nobile di Montepulciano
Sangiovese is known to have substantial tannins, herbal scents, and a fresh cherry fruit taste with a vibrant acidity. New World versions typically have a fleshier fruit taste and a softer acidity. The color of the wine will typically change as it ages: it starts out as purple when young, ruby until four or five years old, and then it gradually shades into garnet.
These grapes bud early, are relatively thin skinned, and require warmth in order to fully ripen. They tend to grow best when in shale, clay-based soils or limestone. Although this fruit can grow in almost any climate, they do not tend to do their best in cooler environments. Sangiovese grapes grown in cool temperatures can create wines with under-ripe tannins and high acidity, which causes a much harsher taste.