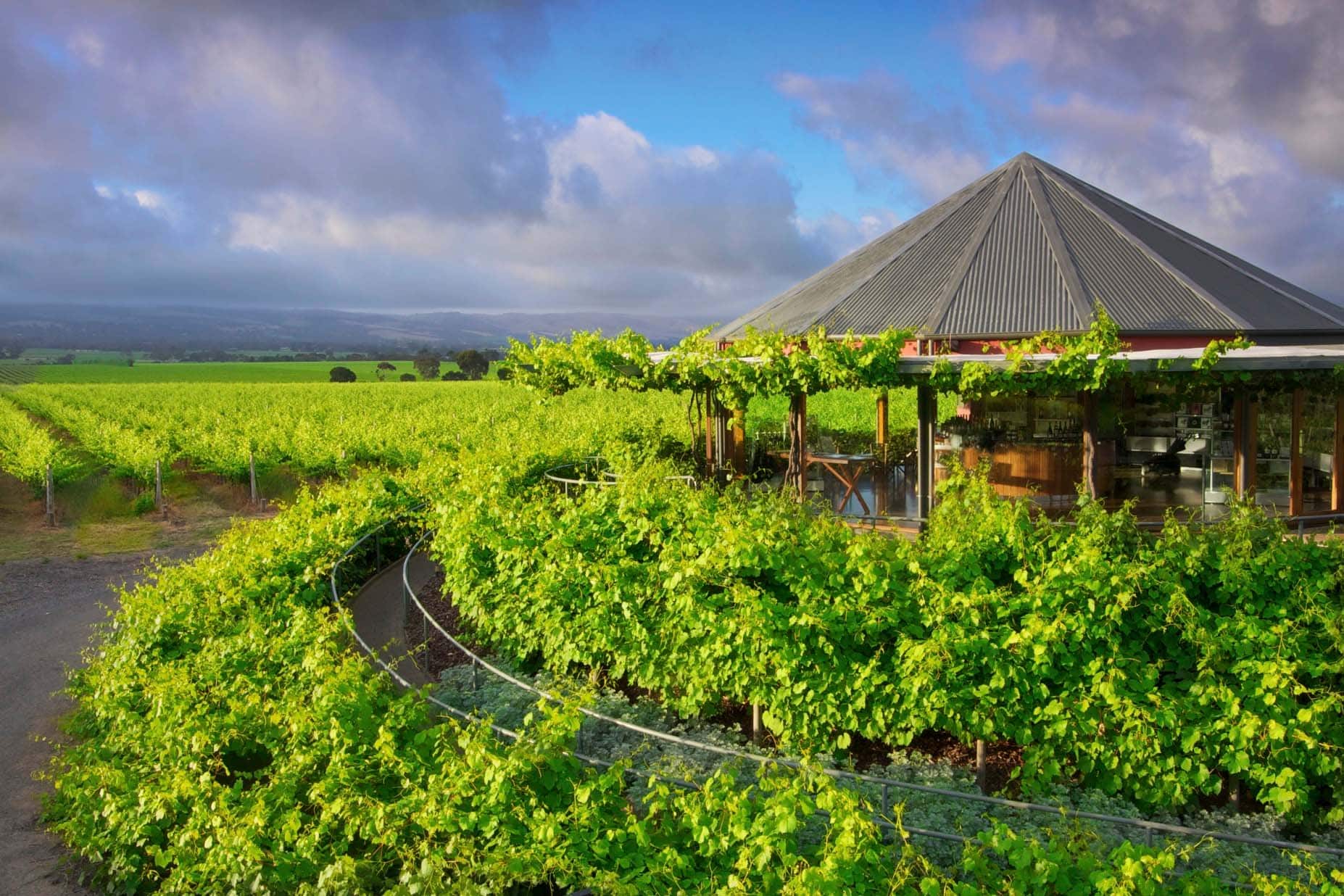 The Heart and Soil of Hugh Hamilton Wines
Nestled in the picturesque landscapes of McLaren Vale, each of our vineyards is a vital chapter in our winemaking story, reflecting not just the geography but the character and spirit of our wines. From the Cellar Vineyard's powerful Shiraz to the ancient elegance of the Black Sheep Vineyard, these lands are more than just soil and vines – they are a living embodiment of our family's tradition and innovation in winemaking. Join us on a journey through these distinctive terrains and uncover the flavors and aromas that make Hugh Hamilton Wines truly one of a kind.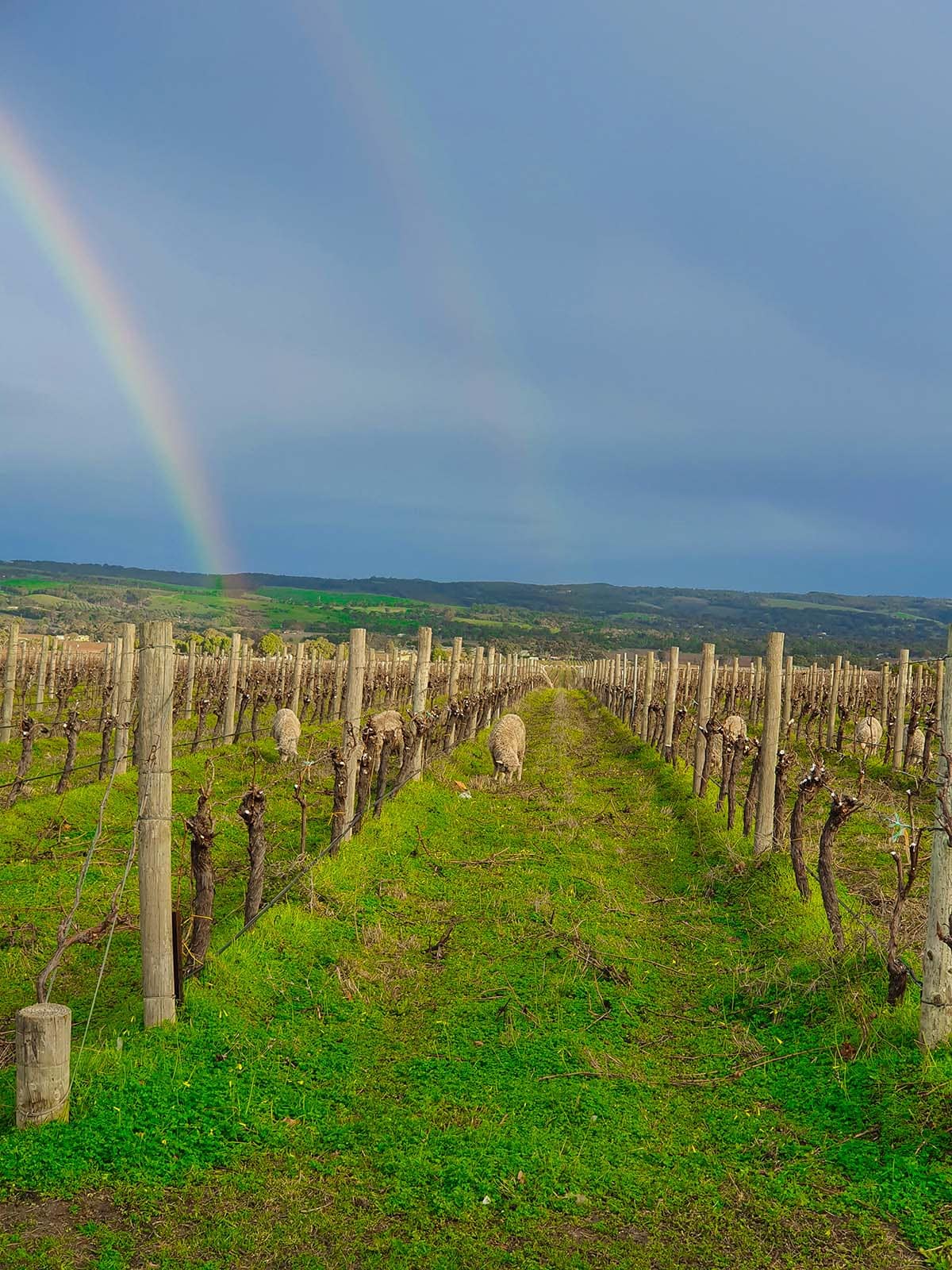 our practices
It's an old adage that you don't mess with what works, and what works in the vineyard is the timeless communication of the soil and its flora with the roots of the vine. It is clear to us that this balance does not need synthetic chemicals. Unsurprisingly, eliminating these chemicals and returning to traditional age-old farming practices has yielded healthy vines that are part of an ecosystem, and from these we are achieving wines of depth, clarity, structure, and elegance.

We are long term members and advocates of Australia's national sustainability program, birthed right here in McLaren Vale, 'Sustainable Winegrowing Australia'. Our viticultural practice is deliberately as free from chemicals as possible, and our fields managed with low tillage approaches to both build soil health and positively impact the environment. We also actively participate in community groups such as Biodiversity McLaren Vale seeking to preserve the environment we share, well into the future.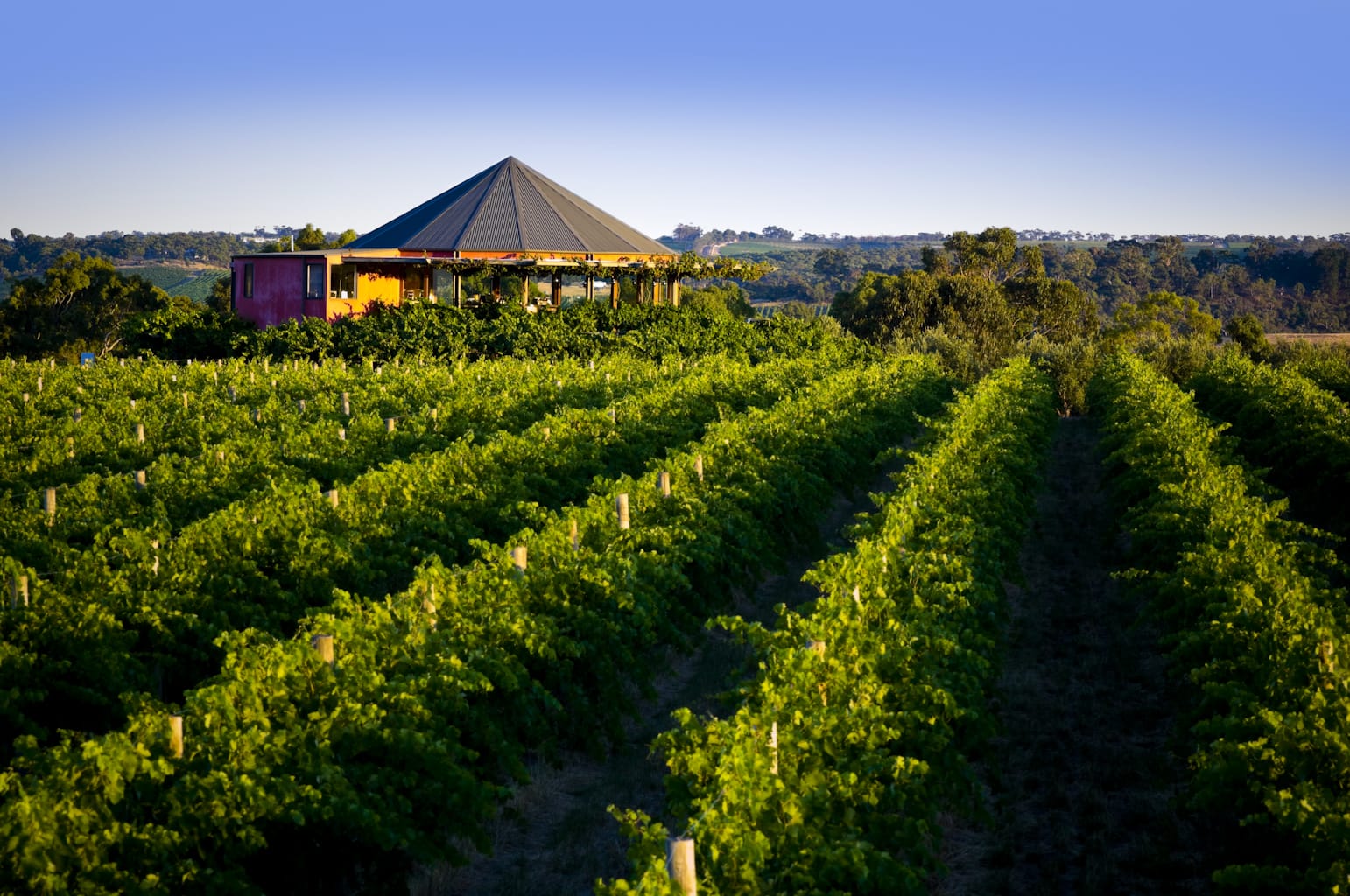 Cellar Vineyard
The first of our vineyards is our Cellar Vineyard, the vines which form the beautiful sweep of green immediately to the south of our Cellar Door.
The soil here is 'Biscay Clay', also referred to as 'self-mulching black cracking clays'. These soils are relatively widespread in the McLaren Vale/Willunga strip and have unique properties. Slow to wet, they can hold a large volume of water, but hold it very tightly. Vines struggle to recover that moisture when it is needed, and so stress very quickly if exposed to a sudden heat-wave. The fruit therefore needs to be watched very carefully as it ripens, or it can very quickly shrivel and show sunburn.
When dry, these soils get cracks 2-3cm across, which can extend down as far as a metre. As they crack and separate, vine roots, irrigation pipes and concrete footings can all suffer, torn apart by the intense but very slow-moving force of the particles contracting after swelling when wet. It's lousy soil to build houses on—which as farming land comes under pressure from urban sprawl, we think is wonderful—but vines love it, particularly Shiraz. Such vines can produce fruit with great fragrance and power and a structure which guarantees ageing potential.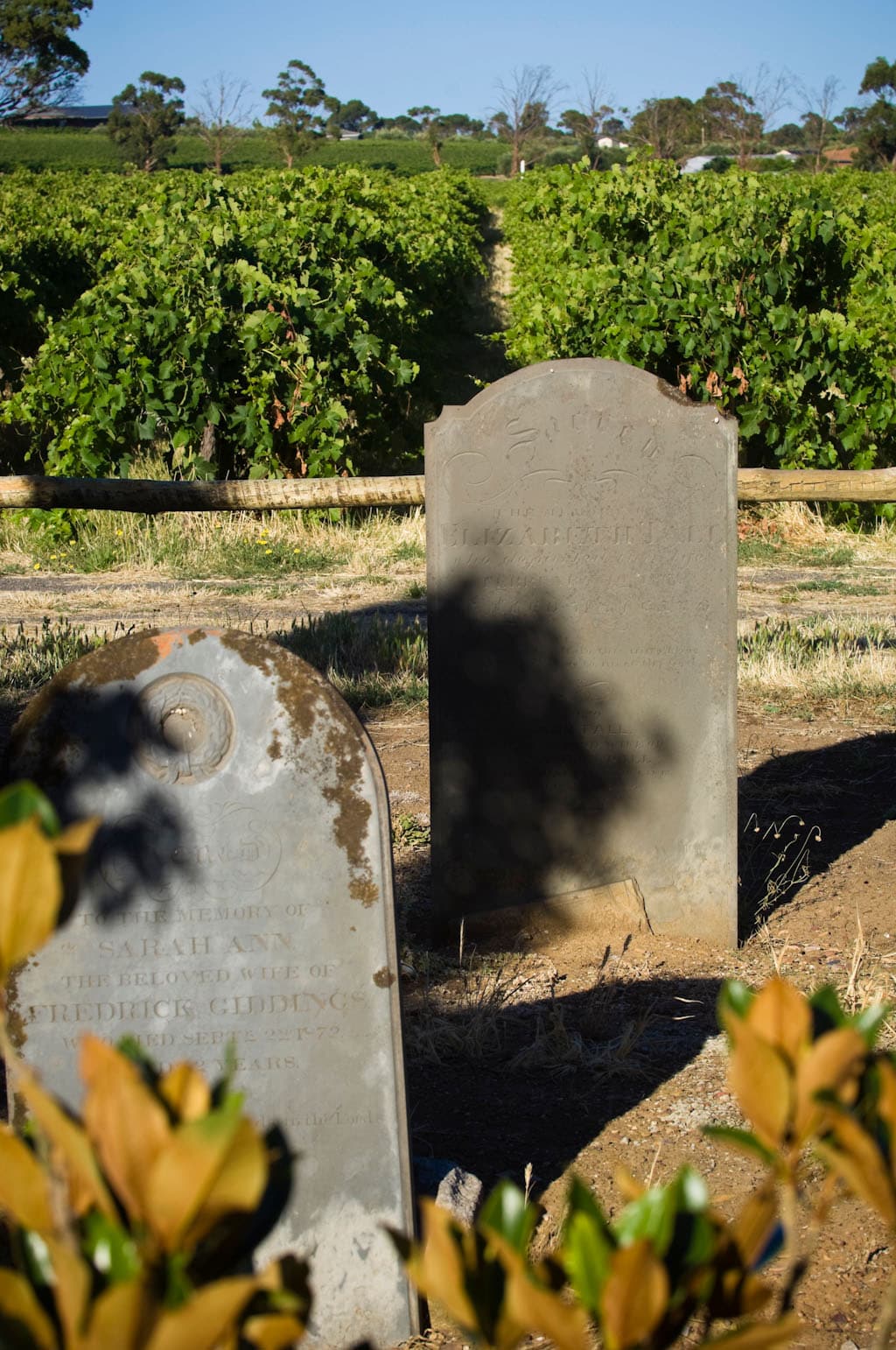 Church Vineyard
If you stand in our beautiful Cellar and look east toward the old Bethany Chapel, you look straight across our 'Church Vineyard', which surrounds the chapel on 3 sides.
It is planted to Shiraz, Saperavi and Sangiovese –a very important piece of real estate to Hugh Hamilton Wines, indeed! The soil here is alluvial as the vineyard is an ancient creek bed (a deep, winter-only creek at the eastern end is the last vestige to it). There is a distinct but very shallow gully which cuts across the Shiraz vineyard; and at the western end has a band of soil which is shallow and tough, with bits of quartz and scattered ironstone.
The rows run east/west, which provides maximum shade from the sun during heatwave conditions. The Shiraz vineyard can best be described as alluvial loam. It's not easy country for the vines, but they are pretty happy once they get their roots into the clay below, and produces a crop which ripens readily and evenly.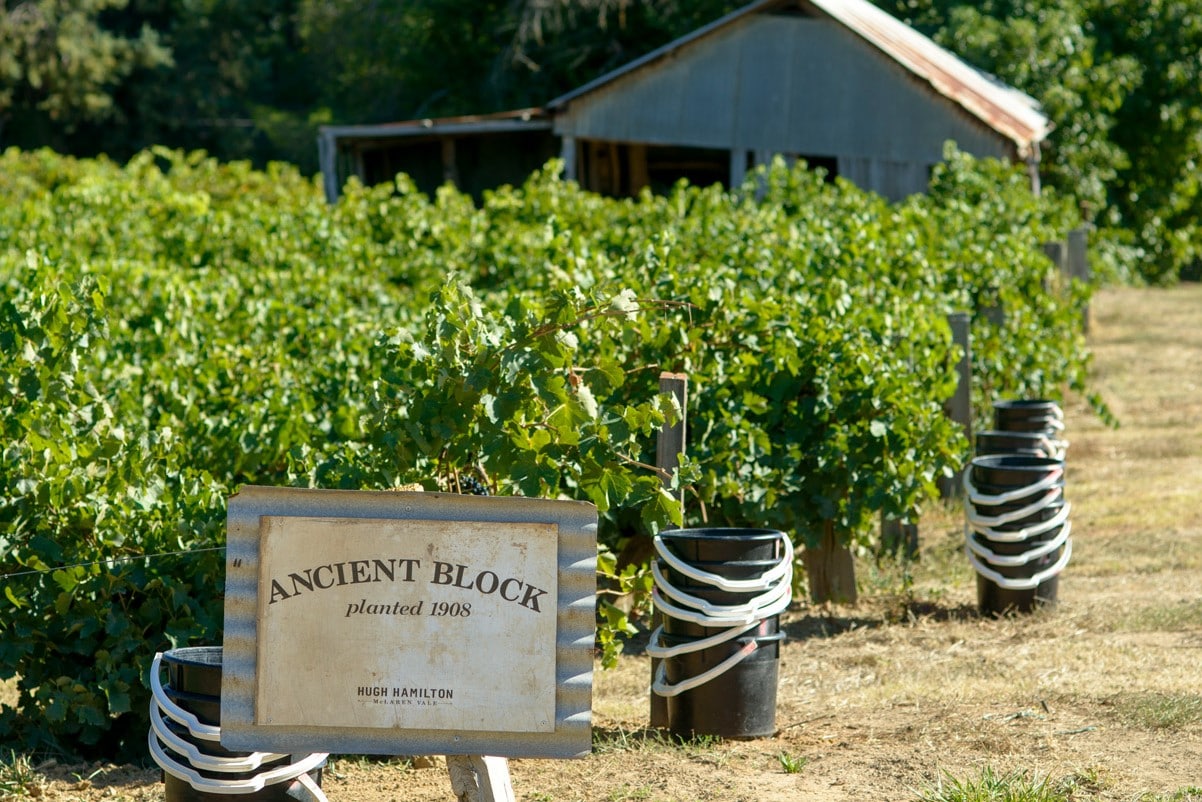 Black Sheep Vineyard
On the north-eastern fringe of the broader McLaren Vale region lies the Blewitt Springs sub-region: higher in elevation and further from the sea—and consequently cooler and later-ripening than the main region, and featuring large ancient sand hills which are interspersed with gullies which feature ironstone and clays.
Here is the Hugh Hamilton 'Black Sheep' vineyard: a very diverse piece of land with a sizeable creek separating it into two Main sections. It is home to substantial plantings of Shiraz and Cabernet, each of which is divided into smaller sub-blocks according to the patchwork of soils on which they lie. Many of these are quite mature—so that what our winemaker refers to as the 'Young' Cabernet is probably at least 25 years old … what a privilege to call such vines young!
And what he calls 'Old' Shiraz needs to be differentiated from the 'Ancient'… but we believe both vineyards to be well over 60 years old.